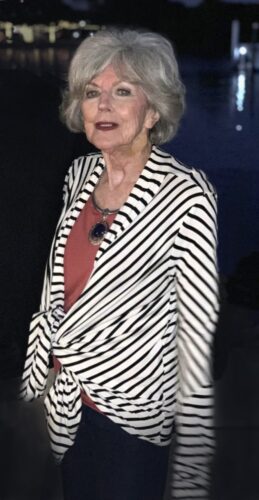 Myrna has a history of multiple skin cancers that were treated with Mohs micrographic surgery. During the last year, Myrna was diagnosed twice with basal cell carcinomas (BCC). Her dermatologist, Dr. John Binhlam of Advanced Skin & Laser Center, in Brentwood, Tennessee recommended superficial radiation therapy (SRT) as an alternative to Mohs surgery based on several factors unique to her. Myrna had SRT treatment delivered with the RADiant system, right in Dr. Binhlam's office. Read her story below.
---
I'm 85 and have a long history of many skin cancers. My complexion is very pale and growing up we thought nothing of spending time on the beach tanning ourselves. That sure has seemed to have caught up with me. Over the last decade – perhaps once a year for 13 years – I've had multiple skin cancers removed from my nose, cheek and jaw with Mohs surgery. It has left me with visible and unpleasant markings, especially on my nose.
Last March, Dr. Binhlam, took a closer look at a suspicious spot on my jawline. Following a biopsy, it was diagnosed as basal cell carcinoma (BCC). This time, however, was different, as Dr. Binhlam recommended a new option for me based on my history and other factors. I was excited to learn of the non-surgical alternative. Dr Binhlam discussed my treatment options with me, and I decided to try superficial radiation therapy (SRT) delivered by the RADiant system from Xstrahl.
SRT on the Jawline
I had treatments on my jawline twice a week, with 10 therapy sessions in total, all of which were completely painless and quick. I was comfortable during the whole process and there were no visible marks at all following the treatments. I was covered with a lead body shield, and other shields were used on my thyroid, eyes and ears for protection, which made me extremely confident about the treatment. After I was set up and ready for therapy, Dr. Binhlam and the medical team would leave the room and monitor me with a camera and computer in case any adjustments were needed. They were gone for only a minute or two, and I was comfortable from beginning to the end.
SRT Behind the Ear
But that's not the end of my story. I finished SRT in April on my jawline. Then, on a routine skin check in August, Dr. Binhlam discovered a spot behind my right ear that was kind of large – the size of a penny. I am grateful that I have routine appointments, because I never would have seen this one on my own! I had a biopsy and received another BCC diagnosis.

I discussed my options with the doctor again, SRT vs Mohs, but since the first procedure on my jawline was so successful and easy, I opted for non-surgical SRT for this new occurrence behind my ear. As with my first therapy cycle on the jawline, SRT sessions were twice a week for a total of 10 sessions. Positioning was a little trickier behind the ear, but Dr. Binhlam and the staff made me so comfortable. The medical team used shields on me, left the room and monitored me from outside. The process was over quickly in just minutes.
I'm pleased with SRT for my skin cancer. I appreciate that it was painless, non-irritating, and, most importantly, effective with no visible marks at the end. I live about 20 minutes away from the dermatologist's office, but I would have no problem driving further to have SRT. And, if I happen to have the need in the future, I will choose SRT again.
---

About RADiant
RADiant is a small, easy-to-position radiation therapy system that enables dermatologists to deliver non-invasive treatment for non-melanoma skin cancer in the office. It is perfectly suited for sensitive areas, including hard-to-reach areas on the head and neck. RADiant provides both superficial radiation therapy and electronic brachytherapy based on the needs of the patient.