It can be difficult to treat non-melanoma skin cancer (NMSC) of the lower legs. The blood supply of the lower legs makes surgery challenging, and radiotherapy below the knee is controversial because of the fear of radiation-induced ulcers. In the study, "Lesion-based radiotherapy for non-melanoma skin cancer of the lower legs with a focus on radiation-induced ulcers," clinicians evaluated the outcomes of definitive radiotherapy in treating NMSC lesions of the lower leg (definitive meaning primary treatment, not in addition to surgery).
The study looked at the treatment of 111 lesions (cutaneous squamous cell and basal cell carcinomas) across 56 patients. Out of these lesions, 20 were treated with superficial radiotherapy using the Xstrahl 300.The study found that 74 of the 77 lesions treated with curative intent were cured, with recurrence of 2 cSCCs and 1 BCC lesions. Only 14% of lesions developed a radiation-induced ulcer, which required treatment for a median duration of 5 months.
The authors concluded that radiotherapy of lower leg NMSCs does achieve local control with a relatively low rate of radiation-induced ulcers, therefore supporting radiotherapy as a safe treatment option.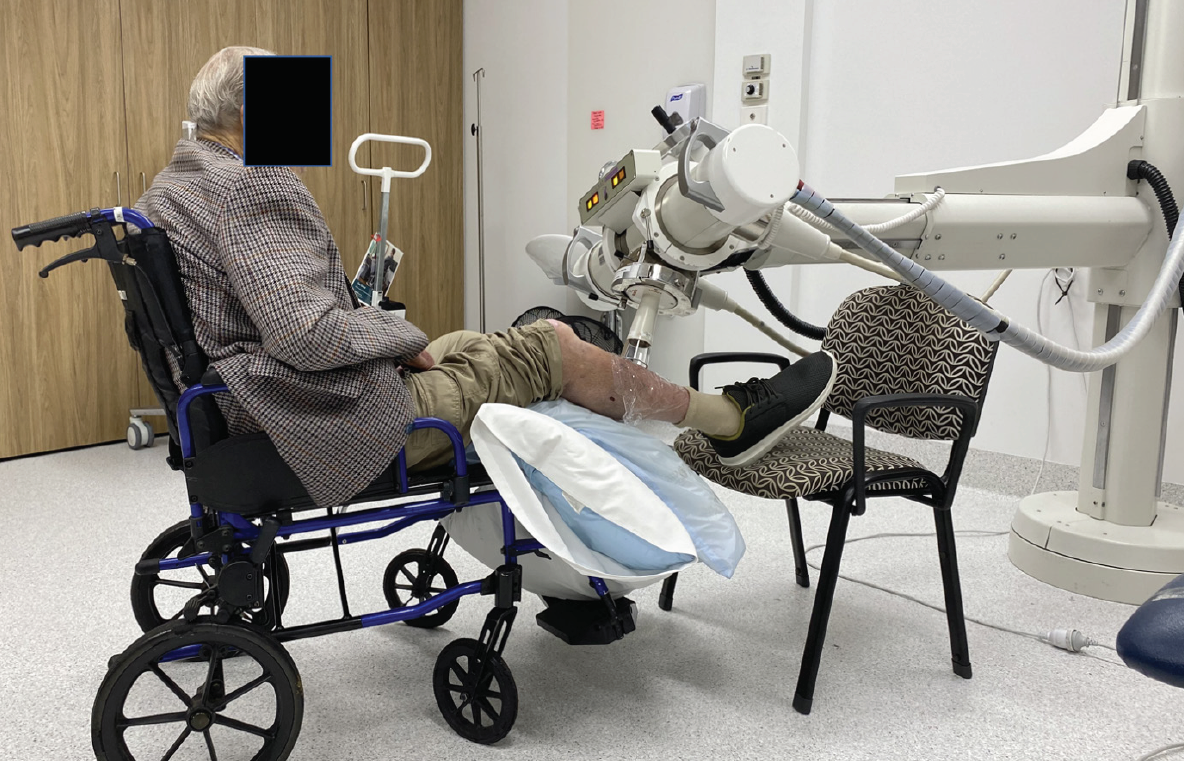 Leg treatment showing ease of set up with Xstrahl 300 machine. Wheelchair bound patient having SXRT treatment to lesion on right lower leg. Ease of set up enables quick treatment without need for transfers from the chair to bed, minimizing discomfort for patients and making workflow smooth and more efficient.
Published on April 7, 2021 in the International Journal of Radiology &; Radiation Therapy. Authors: David Gregory Tighe, Anthony Tanous, John Flood, Terence SC Poon, Nina Wines, Joanne Sullivan, Tina Gorjiara, Jacqueline Peterson, Gerald Blaise Fogarty