Skin cancer is an increasingly common condition, particularly keratinocytic cancers like basal cell carcinoma and cutaneous squamous cell carcinoma. Surgery has been the standard treatment for these, but affects functional and/or cosmetic outcomes. Definitive radiotherapy (RT being the primary treatment rather than given post-operatively) conserves tissue while offering comparable cure rates, and can reduce risk of functional or cosmetic affects.
In a recent case series, "Lesion-based radiotherapy of the ears, lips, and eyelids for skin cancer," clinicians analyzed the treatment and outcomes for 147 patients. One of the treatment modalities was superficial x-ray RT with the 100kV beam of our Xstrahl 300 machine (pictured here on the right).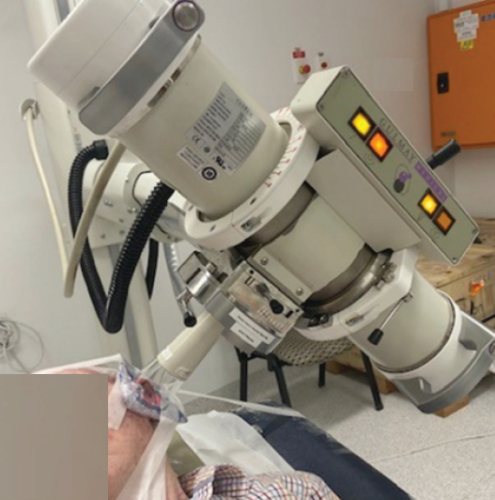 The treated lesions were:
Basal cell carcinoma (49.2%)
Cutaneous squamous cell carcinoma (39.4%)
Lentigo maligna (4.2%)
Sebaceous carcinoma (1.2%)
Merkel cell carcinoma (1.2%)
Bowen's disease (2.4%)
Actinic change (1.2%)
Keloid (1.2%)
Out of all cases, 108 were treated with definitive RT, with a total recurrence rate of less than 6%. Clinicians concluded that lesion-based RT for skin cancer of the ear, eyelid and lip is effective, and preferable in light of functional and cosmetic outcomes.
Below is one of the cases of lentigo maligna (LM) of the eyelid, which was spilling over onto the patient's palpebral conjunctiva. The patient was treated with superficial radiotherapy and had optimal functional and cosmetic outcomes 1 year following treatment.
Published on April 7, 2021 in the International Journal of Radiology & Radiation Therapy. Authors: Anthony Tanous, David Tighe, Julie Bartley, Gavin Gottschalk, Tanya Gilmour, Nicholas Lotz, Gerald B. Fogarty