MURIGLO
Molecular Optical Tomography (MOT) preclinical imaging system.
Fully integrated or standalone bioluminesence and bioluminescence tomography.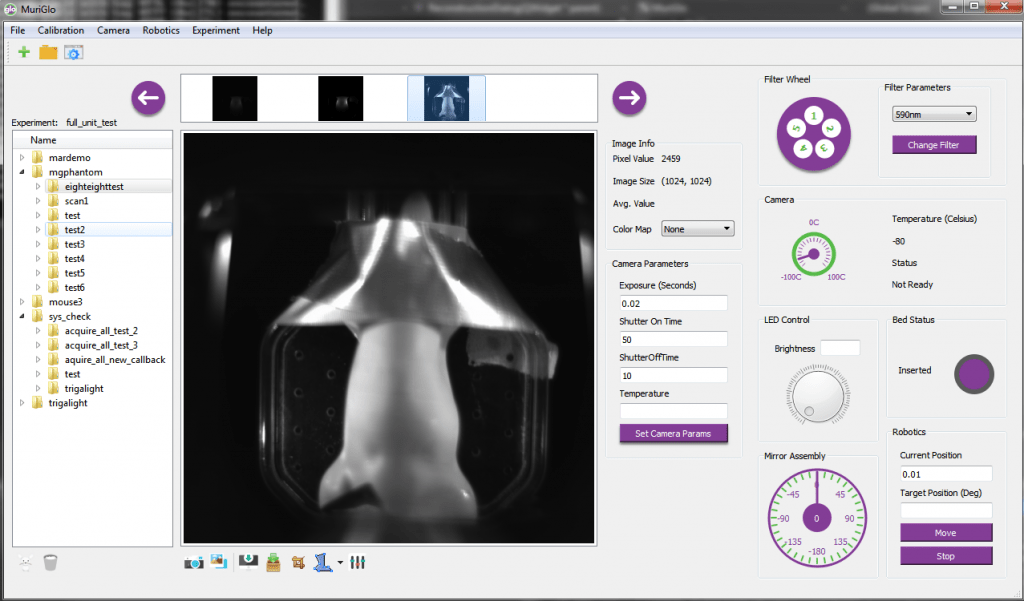 MURIGLO
MuriGlo is an advanced in vivo optical imaging system with bioluminescence (BLI), bioluminescence tomography (BLT1) and transillumination fluorescence imaging (TFI2) capabilities. The system uses the photon emission data acquired from three rotating mirrors and a state-of-the-art 3D reconstruction engine that uses the anatomic and optical priors derived by diffuse optical tomography (DOT) and cone-beam CT (CBCT) data to yield a 3D center of mass (COM) of the target. The COM is then automatically fused with the SARRP CBCT allowing for more accurate treatment planning and targeting for lesions that are hard to identify by CBCT alone. Through recognition of highly sensitive data points throughout the specimen, MuriGlo provides accurate and reproducible optical quantitation. The versatility of the system provides the user an unprecedented range of imaging wavelengths (i.e. 450nm-800nm).
Muriglo is designed to be used on board the SARRP image guided irradiator for accurate targeting of tumors and metastasis. The unique docking design allows MuriGlo to be integrated within the SARRP or used in a standalone benchtop configuration. This dynamic configuration will extend the imaging capabilities of your lab, and increase workflow when using the SARRP in tandem.
1. NCI funded Academic-Industrial Partnership between John Hopkins  University and Xstrahl. 2. Work in progress.
For more information about SARRP download our brochure.
We have found SARRP an extremely valuable resource for pre-clinical work in which we aim to mimic clinical treatment regimens as closely as possible. SARRP enables efficient, accurate and reproducible pre-clinical radiotherapy that is especially valuable for assessing drug-radiation combinations in realistic schedules. We have been very impressed by the user-friendly interface in MuriPlan, which is straightforward for users and  can be interfaced with imaging modalities such as MRI and bioluminescence for optimised image-guided planning. SARRP has become central to our translational pipeline in radiation biology and comes with extremely good support and maintenance to take the stress out of running large pre-clinical experiments.

Professor of Clinical Oncology and Neuro-Oncology, Leeds Institute of Cancer and Pathology, Leeds University, Leeds, United Kingdom

Prior to acquisition of the SARRP we were left with an obvious and significant void in our pre-clinical arsenal to investigate existing and novel cancer therapies. The technological similarity of the SARRP with the medical systems in our clinic and availability of ongoing technical support from Xstrahl were decisive factors. The SARRP forms an integral part of our translational research pipeline and will greatly expand the capacity, potential and quality of our cancer and radiation research.

Irradiator Manager, Royal North Shore Hospital & Research Director, Bill Walsh Translational Cancer Research, Sydney Vital, Sydney, Australia

SARRP has really made a significant impact in our lab, the ability to accurately target small volumes with image guidance hasn't been possible before and we are now constantly evolving our approaches to leverage the technology to its maximum potential. Clearly our ability to delivery clinically relevant radiotherapy treatments in preclinical models has taken a major step forward, it up to us as a research community to translate this to the next generation of clinical innovatives

Lead Lecturer of the Center of Cancer Research and Cell Biology, Leeds Institute of Cancer and Pathology, Queen's University, Belfast, United Kingdom

We have been using the CIX2 X-ray cabinet for some years for cell culture experiments, and it is one of the most frequently used machines in our lab. In my opinion, the x-ray irradiator is a great tool for the irradiation of cells in our research lab. The cabinet runs very stable and is easy to operate (even for non-experienced visitors) and offers all options needed for our research making it extremely user-friendly. The possibility to change the filters quickly and to work with different distances away from the x-ray tube markedly enlarges the spectrum of experiments, which can be performed, and the safety aspect is hereby a big advantage. Furthermore, the technical support of X-Strahl is an outstanding example of good customer service.

Postdoctoral Researcher, Ludwig Maximilian University of Munich, Munich, Germany

The irradiation devices developed by Xstrahl for radiobiological research, both in vitro and in vivo, certainly are of outstanding quality in this field of research. We use the Xstrahl SARRP system successfully for our in-vivo-research on orthotopic small animal tumour models. With this system we are able to mimic the clinical situation and especially irradiation in mice much more precisely and easier than in former times.  So it helps us to make our research more reliable and more clinically relevant. From my point of view, the customer service provided by Xstrahl is close to perfect. All in all, the possibilities provided by Xstrahl's irradiation equipment, e.g to closely mimic the radiotherapeutic clinical routine in small animal models (CT-based treatment planning with the SARRP system) is absolutely outstanding.

Postdoctoral Researcher, Ludwig Maximilian University of Munich, Munich, Germany