Michael Crowe, MD, Owensboro Dermatology Associates, Owensboro, Kentucky
Obviously, no one on Earth has ever been thrilled with a cancer diagnosis, but for those who have non-melanoma skin cancer (NMSC), the good news for them is that it is usually treatable. As we all know, the standard of care for treating NMSC on the face and neck is Mohs surgery, which offers a very high cure rate.
There are, however, several contraindications for surgery. My practice is located in western Kentucky, where there is a large population of farmers and outdoor workers who are chronically exposed to the sun. Many of my patients are in the older age range (65-75+) and may be on anti-coagulants or immunosuppressants, and have comorbidities – some of which may make surgery undesirable or contraindicated. Particularly when patients are facing lesions on the nose, helix, face and scalp, as well, it's important to be able to offer a non-invasive treatment alternative that can also reduce possibility of scarring.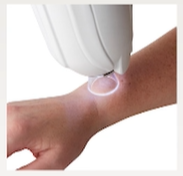 Over the last three decades we've treated more than 50,000 skin cancers at my practice with various treatment modalities, but it wasn't until 2012 that we began offering superficial radiation therapy (SRT) with our first Xstrahl machine, an X100. I chose to begin offering low-dose radiation therapy because I believed it was in the best interest of my patients. Many were so relieved when I told them they were candidates for a non-invasive treatment alternative to surgery.
In 2017, we added the second Xstrahl unit, a RADiant system, which is capable of delivering both SRT and electronic brachytherapy (eBt). I chose to expand my practice to include eBt because it was better suited to certain types of lesions, and oftentimes eBt treatment can be completed in fewer visits than with SRT. Having the dual modality system also means that I can provide my patients various options based on their insurance coverage, which is also a very practical consideration for my patient population. Currently, we treat approximately 20 patients each week with RADiant using SRT and eBt.
From a clinical outcomes and patient satisfaction perspective, my ability to offer office-based SRT and eBt is not only practical but also affordable and many patients find these treatment alternatives to be very desirable options. This is not only because the procedures are painless, non-scarring and come with minor, manageable side effects, but also because the cure rates are reported to be 95 percent and higher.
A recent typical case involved a 76-year-old man with a 1.1 centimeter basal cell cancer on his left upper nose in the medial canthus area. This individual, who also had heart disease and was on antiplatelet therapy, had received SRT before and he strongly preferred it over surgery. We treated the skin surface using a margin of 0.5 centimeters and delivered two fractions per week over five weeks for a total dose of 40 Gy. The only side effects were some redness and irritation at the treatment site, which – with the application of 2.5% hydrocortisone – resolved after a month. Resolution of redness in a very short time is common and occurs in 95 percent of our patients.
We've been using eBt at our practice for three years, and we prefer it over SRT for treating lesions on sites like the face and nose, where we can use eBt's narrow margins and the ability to deliver fewer fractions than SRT. SRT is employed for larger lesions on areas that don't require smaller margins, such as those on the legs. Xstrahl also recently introduced an eight centimeter SRT applicator that would be ideal for treating a large lesion on the scalp, for example.
Office-based radiation therapy has been a very simple technique to perform by virtue of Xstrahl's low energy systems, especially with our RADiant unit. The software is excellent, the system is very easy to use and quite intuitive, and comes with a wide variety of applicators to match a range of tumor sizes. We have also used these systems extensively to treat the shin, pre-tibia area, and ankles.
One of the things that I appreciate about working with Xstrahl is that we receive great application support and training, which made the learning curve short for me and my support team, especially those who were new to this type of therapy. Physics support before go-live is also essential, and Xstrahl provides that, as well as required annual machine calibration. Xstrahl also helped our practice recruit a licensed radiation therapist to operate one of our systems, which helps balance the workload.
The positive experience patients have with these techniques will continue to drive demand, and I've seen this first-hand in my clinic. In the minds of many skin cancer patients, the benefits of a painless treatment, with minimal side effects and no scarring, far outweigh the possible inconvenience of multiple clinic visits. In the end, patients are often extremely happy with the results, and there is no question that I am better serving my patients by offering these effective, non-invasive alternatives.